Mike Evans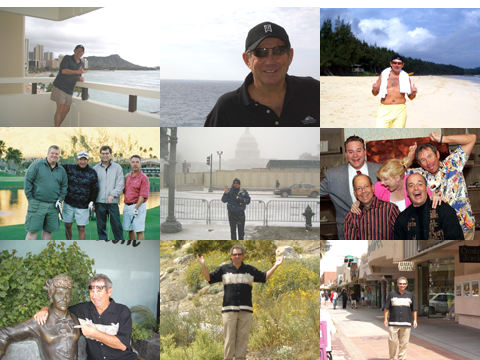 So … you want to know more about me? Well, it is a strange one, but here you go.
My father was a career man in the Navy and married my Mom when they were both 18. I was born in Honolulu, while Dad was based at Pearl Harbor. My Mom died before I was two. My Dad took care of me when he could, but when he was sent out to sea I lived in orphanages and was often shipped off to my Grandmother, Neena. That meant a lot of traveling from Hawaii to Manhattan Beach, California where Neena lived. But, looking back, it was all good. Surfing and fishing were my life, and growing up in Hawaii was the most wonderful experience a child could have.
I was always interested in radio, and a Honolulu morning disc jockey name Aku was almost as famous as King Kamehameha. One morning Aku locked himself inside his radio booth and continued to play the same song over and over until the police came and broke down the door. To this day I do not know if it was a stunt or real, but it made a lasting impression on me that would guide my career goals.
When I was 14, Dad married another woman, she had 2 children and he was transferred to the Mainland. Over the next 2 years we traveled constantly. While he was based at the Great Lakes Naval Training center near Chicago, I heard another disc jockey on the radio that, like Aku, made a huge impression on me. His name was Dick Biondi, and believe it or not, Dick is STILL in radio AND on the station in Chicago you can catch me on! But I digress.
From Hawaii, to Long Beach, California, to Virginia Beach, to Patterson, New Jersey, those 2 years from 14 to 16 were crazy, and I attended very little school! Everywhere we went however, I listened to radio and found it to be my one constant source of enjoyment and refuge. Then Dad got transferred back to Long Beach, California for good. I started school at Redondo Beach but after the first semester, I was told that all the traveling I had done and all the school I had missed would keep me from graduating on time. At that very moment I decided to quit High School. I took a job working 60 hours a week selling shoes at May Company Department store. I saved every penny to buy a car.
When I was 17, I started driving the 20 miles from Redondo Beach to Hollywood, trying to get a job in radio, doing anything. The second station I went to was KRLA. They hired me to be a flunky, from sweeping floors, to running errands, to putting away music to working the switchboard.
Little did I know that working the switchboard would change my life, forever. Record labels employed people that went to stations and brought their new records to the Program Directors in hopes they could convince them to play them on the radio. One such record guy worked for Decca Records, and the 2 of us became friends. At one point he complained that his car had broken down, and I offered to let him use mine, since I stayed at the station all day. He used my car from time to time, and from time to time, I stayed at his house he shared with his girlfriend so I rather than drive back to Redondo. He and his girlfriend also sang together, calling themselves, Cesar and Cleo and I would drive them or just go, with them, to their singing gigs. A few months after meeting him, he and his girlfriend decided to just use their own names while singing, Sonny and Cher. During this same time, Sonny got me a part time gig working with two guys named Charlie Green and Brian Stone who managed Sonny and Cher while trying to get them a record deal. During their first recording session, I played tambourine on the songs, Look at Us and I Got You Babe. My life changed overnight.
I booked Sonny and Cher at 30-40 concerts in the Los Angeles area, usually High School concerts. Did some work on their television show, but then was drafted.
When I was 24, I got back into the media, selling the idea of a 5 minute syndicated interview show covering the Los Angeles Dodgers and California Angels. I DID sell the show to General Telephone. They bought the idea and for 3 years traveled with the two teams. Then, out of the clear blue sky, I was offered a job doing a weekend Sports Talk Show on KABC radio in Los Angeles. I took the job for almost 2 years and was also the Assistant Program Director – nothing more than a job doing everything for little money. It was during this time I accidentally found a guy named Ed Bieler a.k.a. SUPERFAN. Basketball great Bill Russell was doing the Monday through Friday SPORTS TALK SHOW on KABC, and failing miserably! I talked KABC management Ben Hoberman and George Green into hiring SUPERFAN, and SUPERFAN was so successful, the Dodgers even switched to KABC. Despite Beiler being very successful, I wanted to do something different and wanted out of KABC. Then I bumped into an old buddy, a guy named Jerry Lisker. Jerry was an author and covered the really big sporting events, including the World Series where I met him years earlier. One day Jerry called and said that he had met a guy that was buying the National Star tabloid paper and they were going to keep the last 8 pages sports. He also knew that I still ran in the Hollywood scene and said my knowledge of that world could be an asset. He and offered me the job as the National Star West Coast Sports and Entertainment Editor. I jumped at it! For the next couple years I wrote Hollywood and Sports gossip for the National Star, while also doing call-in bits on some friends morning shows, just to stay on the air. Then, Jerry called to say that the same guy that owned the STAR, was going to buy the New York Post and wanted to know if I would be interested in being the West Coast Sports and Entertainment Editor for the New York Post, including being a big part of their PAGE 6 gossip column…oh, YEAH! I was flown from L. A. to New York to meet this bigwig named Rupert Murdock! My boss was the PAGE 6 Editor — Robin Leach.
Working for the Post was great and I did it for three years, but my lack of Education, poor spelling and bad writing skills finally did me in. But, that was all right. I had already started making my way back into radio (my first love) by doing Play-by-Play on radio for Cal State Long Beach football and basketball. Plus, I was still doing some funny little bits on a couple morning shows in L.A. and keeping my name out there in the radio industry.
During all these years, I also met and married a United Airlines Flight Attendant and had 2 great daughters and despite divorcing, I remained a joint custody father.
In 1980, I was dating the girl who did the mid-day show on a new pirate type station in Los Angeles called KROQ. I went with her to the station Christmas party in Malibu and met the Program Director, Rick Carroll. My life was about to change again! Rick said he had heard me doing funny bits on some other morning shows and asked if I would like to do mornings at KROQ. I agreed, and for the next 10 years that is what I did. And during those 10 years, KROQ became the most famous station in rock radio history!
It wasn't all a bowl of cherries. A couple of times during that period I was fired or quit and as always, when the chips were down, would head back to Hawaii, the only place that was ever home to me. I even did mornings back in Honolulu! However, I would only be gone 6 to 9 months and then it was back to KROQ.
When I finally left KROQ for good, I did some Radio morning show consulting and was even a media director for a large hotel chain. But, after a couple years off, I was ready to get back on the air. Then I decided to put something together I had always wanted to do — a syndicated 5-minute feature that would be a live commentary on Hollywood, while also covering the biggest stories and events in the country. I started making calls on June 1, 1994. On June 12th, O. J. Simpson killed his wife and Ron Goldman and I still had an L. A. PRESS pass. Using the O. J. trial as a selling point, ON THE ROAD WITH MIKE EVANS became an instant hit, and voila, here we are on 56 morning-shows everyday from coast-to-coast!
I have covered everything including the World Series, Super Bowls, Inaugurations, and an Impeachment. There have been hundreds of Movie Premiers, several Moon Shots, and 18 Academy Awards, and everything in between. I have interviewed Presidents and every sports and Hollywood star out there. Life has been very good for this High School dropout, and I give all praise to God. And the icing on the cake is my 10-year marriage to my great wife Cheryl while also getting 2 more great kids!
Talk to you on the radio!