John Michaels Obituary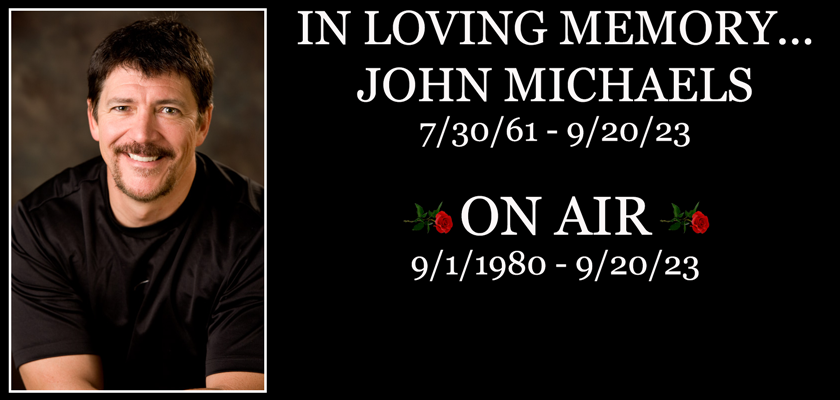 John Michael Fleming, 62, passed away unexpectedly on September 20, 2023, finding solace in the arms of God and the promise of heaven. John was born to Raymond Patrick Fleming and Margaret Jean (Kerns) on June 30th, 1961 in Anaconda, Montana, one of 12 children. He graduated from Troy High School and joined The Montana National Guard.

"Magic" John took his shot at his lifelong dream of radio by calling KJJR and convincing Benny Bee Jr., who was fourteen at the time, to let him into the building at 3:00 a.m. to record a demo tape to get a job. He left the demo, and as they say, "The rest is history." John spent the next 40 years working for Bee Broadcasting. For the majority of his career, the Flathead Valley woke up to John as the voice of the Bear Morning Country Club. He was also known as The Voice of the Whitefish Bulldogs, broadcasting nearly every game, home and away. Radio was his career, but calling sports play-by-play was his passion.

Serendipitously, Bee Broadcasting led him to the love of his life, his wife of over forty years, Marie. While visiting "Auntie", the mamma of the radio boys, she introduced Marie to John, and four months later they were married. Next, came John's pride and joy, his three daughters Ashlie, Mandie, and Lacie. While he was a talented and dedicated broadcaster, John's true calling in life, what he was best at, was being the father of these three girls. John was the best dad you could ask for. You would find him recording cheerleading mix tapes for Ashlie, coaching Mandie in basketball, or carrying his youngest of ladies on his shoulders, Lacie, to Mrs. Spoonsovers for a milkshake. Until the day he died, there was nothing John wouldn't do for his girls.

Years later, John's life was fulfilled when his grandsons, Bennett and Parker, were born. While "father" may have been the job John was born to do, it's hard to imagine anyone better at the role of "grandpa." From day one he was wrapped around his grandson's fingers. He cherished their conversations on their walks home from school, trips to the duck park, and spoiling them with Sweet Peaks. He couldn't wait to teach them how to catch a fly ball, hit a hole-in-one, or sack the quarterback. In Grandpa's eyes, the sun rose and set on his boys.

When you drove by Park Avenue often you would find John "front porch sittin'", greeting you with a wave or smile. He would be enjoying an IPA, listening to sports podcasts, preparing for fantasy football, and dreaming of the one year the Vikings would win the Superbowl.

John is preceded in death by his parents and his sister Dede Lanz (Fleming). He is survived by his wife Marie, daughters Ashlie Fleming (Treyson Hopkins), Mandie Fleming (Chris Bordin), and Lacie Fleming. Two grandkids, Bennett Michael Bordin and Parker Bordin. Also surviving John were his 10 siblings Jer Fleming (Marion); Dana Young (Michael), Ray Patrick Fleming, Ceil Totten (Terry), Dan Fleming (Patty), Katie Eaton (David), Mary Disbrow (David), Tom Fleming (Patty), Maggie Anderson (Tony), David Fleming (Keri), and numerous nieces, nephews, and cousins.